Share
Kyoto Garden Ryokan Yachiyo/Auberge
Hotel/Budget Inn Overview


Transit & Street Maps
Click here for full maps>>
Telephone 81-75-771-4148 Fax International 81-75-771-4140

Find rooms & rates
The Quick reservation and room rates of five months from today : here.

---



Kyoto Garden Restaurant Yachiyo Overview

Restaurant photos We renvated our garden restaurant to expand the seats by the garden side. Feel free to visit our Japanese culinary art and culture and new gardenrestaurant/Auberge and enjoy being in Japan!! Reservation Assistance>>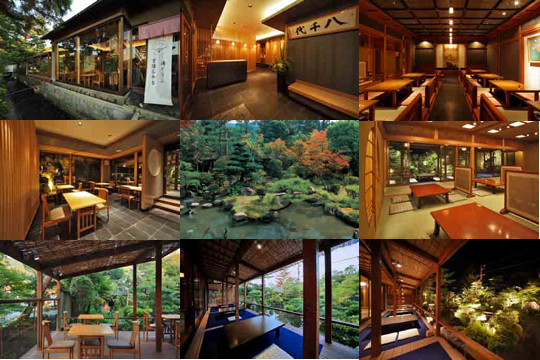 -Ryokan Yachiyo/Auberge/ Inn is a famous (RYOTEI) restaurant in Kyoto.KYOURYOURI and WAGYU Beef can be chosen through an standard course, a deluxe course, and a luxury course and Sushi,Tempra,Sukiyaki,Shabushabu ,A vegetarian Dinner courses .Stay &Dine Package>>
*SUSHI KAISEKI,Seasonal a deluxe course, and a luxury course,A vegetarian Dinner courses: Reservaton necessary 1days prior.(Cancellations must be made by 3 days before the dinner day.) The time of the dinner can be chosen from the time of onset at PM 5:30,6:00,6:30,7:00,7:30. If breakfasts is wished to have, please request a front by 20:00 of the previous day.Rate per night per person,Japanese style Breakfast or Western style Breakfast : 2100JPY yen .The time of the bearkfast can be chosen from the time of onset at AM 7:30,8:00,8:30.

---

YACHIYO NEWS!!

It is all about the guests! "KAIZEN"continuous improvement!!

-The bicycle is lent free in Summer>>. Let's enjoy sightseeing in Kyoto with the bicycle.

-Free Internet.Stay connected at Kyoto Garden Ryokan Yachiyo with fast and reliable Internet service. See below for type of access and availability.Guest Rooms and Public Areas>>: High-Speed Internet - Wireless.

-Portable Pocket Wi-Fi Wireless Internet Rentals:Enjoy 24 hours connectivity for 1000JPN The Quick reservation and room rates of 8 months from today : here.

-Please write the review of Kyoto and Yachiyo. We make your review and picture help of the improvement in the future. facebook>>

As far as you know, Japan is known for its cherry blossoms in spring season and its colored leaves in autumn season. I don`t know how many people know this but Japan is one of very famous winter resorts in the world.  
Usually, we take night bus around midnight from city to go to Hakuba and Nozawa where you can enjoy ski, and start skiing from early in the morning to night. Whatever you take bus or train, it takes less than 8 hours from Kyoto to get Hakuba and Nozawa. However, you can start skiing from the morning if you choose to take night bus, and you won`t waste your time with transfer.
It would be wonderful if we can help your winter travel makes memorable one.

The Aoi Festival is a festival , May 15, 2013.

The Aoi Festival is a festival of both the Shimogamo Shrine and the Kamigamo Shrine held in Kyoto City on May 15th. The official name of the festival is Kamo Festival. In the mid-6th century, a serious famine occurred. Emperor Kinmei asked a fortune teller for guidance to handle the problem. The fortune teller told the emperor that the famine was caused by the gods' anger. Therefore the emperor ordered a ceremonial festival to soften their anger. The festival today is known for its elegant parade with people dressed in classic costumes of the Heian Period.

The Course of the Parade :
Starting from Kyoto Imperial Palace at10:30 ,Arriving at Shimogamo Shrine at 11:40,Leaving from Shimogamo Shrine at 14:20, Arriving at Kamigamo Shrine at 15:30


」
KYOTO INTERNATIONAL MANGA ANIME FAIR 2013
from Sep 7 to 8, 2013.

Okoshiyasu - Welcome to Kyoto Garden Ryokan Yachiyo/Auberge/Hotel/Inn



Kyoto photos Kyoto, the location of Kyoto Garden Ryokan Yachiyo/Hotel/Inn, is a city of history, formerly called Miyako and the capital of Japan from 794 to 1868. Even to this day, Kyoto still retains the charm and traditions of the past with many historical monuments, ancient temples and shrines. Kyoto is considered the foremost place to travel in Japan, and if you have only one chance to visit Japan make a pilgrimage to Kyoto.

Kyoto, is divided into two districts, the Western area called Arashiyama, and the Eastern area called Gion,Higashiyama.Gion,Higashiyama is Japan -famous for its luxurious culture and famous residents.The Yachiyo Ryokan Inn is located in the Gion,Higashiyama Sakura area and aligned with a connecting lane to the famous Nanzenji temple ( see Location>> for maps)

In Higashiyama area, there are many attractive places to visit, such as the Heian Jingu Shrine, the Kiyomizudera Temple, the Nanzenji Sanmon Gate, Gion,the Eikando Temple, Murinan Gardens, Kodaiji Temple, Shorenin Temple, Yasakajinja Shrine, Ginkakuji Temple, Tetsugaku no Michi (Philosophy Path), Chionin Temple, Maruyama Park , and Gion geisha district.

As a Shinise Ryokan, a well established type of Japanese Inn, the Ryokan Yachiyo offers the pleasures and experiences of traditional Kyoto culture and history. The seasonal beauty of the surrounding landscape is breathtaking and the whole experience can be considered as the epitome and the ultimate of travel to Japan.

We welcome you with heartfelt hospitality.
---
Descriptions of rooms and facilities



Ryokan photosKyoto Garden Ryokan Yachiyo is just a short walk along a lane from the famous Nanzenji Temple. You will notice the Kyoto Garden Ryokan Yachiyo very easily from a big paper lantern in front of the Ryokan.
Once you crossed through the gateway into the Ryokan, you have now entered a landscaped space filled with seasonal flowers. Kyoto Garden Ryokan Yachiyo is a small hotel where the tradition of Japan has been succeeded to. Therefore, there is no rooms of the same environment. Each rooms describes an original environment. There are two types of buildings for accommodations at Kyoto Gaden Ryokan Yachiyo, one is the Honkan building, the main and older building, and the other is Shinkan building, a newer building.
About Rooms and facilities review>>
Room rates
- Charges shown above are for one night's stay in one room (Japanese yen; meal charge excluded).


Low Season

Jan. 4th - Mar. 25th, Jun. 1st - Sep. 30th, Dec. 4th - Dec. 27th
| | | |
| --- | --- | --- |
| Number of guests | Mon thru Fri, Holiday | Sat, The day before Holiday |
| 1 | From10,500yen to 84,000yen | From12,600yen to 94,500yen |
| 2 | From10,500yen to 84,000yen | From14,700yen to 94,500yen |
| 3 | From15,750yen to 105,000yen | From22,500yen to 126,000yen |
| 4 to 6 | From21,000yen to 126,000yen | From29,400yen to 157,500yen |
High Season

Mar. 26th - May. 31st, Oct. 1st - Dec. 3rd
| | | |
| --- | --- | --- |
| number of guests | Mon thru Fri, Holiday | Sat, The day before Holiday |
| 1 | From19,950yen to105,000yen | From31,500yen to 126,000yen |
| 2 | From23,100yen to 105,000yen | From33,600yen to 126,000yen |
| 3 | From37.800yen to 126,000yen | From47,250yen to 157,500yen |
| 4 to 6 | From50,400yen to 210,000yen | From63,000yen to 252,000jpn |

-Descriptions of traditional japanese style rooms- HONKAN - main building
-Descriptions of modern japanese style rooms-SHINKAN -new building
---
Beautiful landscaped gardens



Garden photosThe surrounding area of The HONKAN- main building>> is abundant with trees and has water drawn from Lake Biwako, and is completely in harmony with nature. The seasonal beauty of the countryside has to be witnessed and is quite spectacular. The added feature is that the beautifully landscaped gardens surrounding the Kyoto Garden Ryokan Yachiyo were designed by Jihei Ogawa. The garden does the lighting every evening. The night view is beautiful. About traditional garden review>>

---
Dining japanese cuisine at Kyoto Garden Ryokan Yachiyo/Hotel



Dining photos At the Kyoto Garden Ryokan Yachiyo, one highlight of the Ryokan Yachiyo is the Kaiseki (Japanese traditional cuisine)dinng experince. Kaiseki began as a simple a meal served before a Sado(tea ceremony), since Kyoto is a mecca for Sado, or tea ceremony. Kaiseki has also evolved into an elaborate display of many types of seasonal foods,Tempura ,Sushi each served in their own seperate dish.



Restaurant photosRyokan Yachiyo is a famous (RYOTEI) restaurant in Kyoto. kaiseki can be chosen through an standard course, a deluxe course, and a luxury course.

The Kaiseki dinner is preparing the course corresponding to an overseas visitor. (Lacto-ovo vegetarianism,Lacto vegetarianism,Ovo vegetarianism,Veganism)The breakfast can choose Japanese-style breakfast and Western-style breakfast. About KAISEKI dining review>>
Share
Kyoto Garden Ryokan Yachiyo,Traditional JapaneseAuberge /Inn/Hotel,Gion
34 Nanzenji Fukuji-cho
Sakyo-ku Kyoto-shi
Kyoto 606-8435 JAPAN