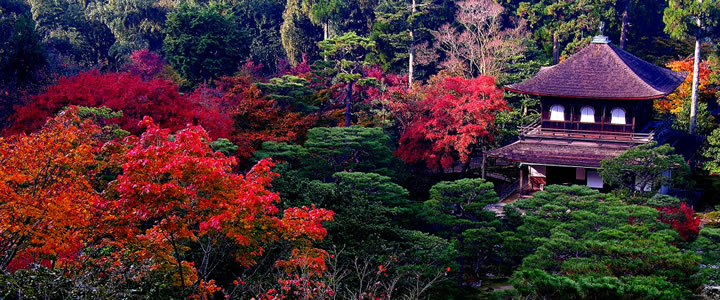 Ginkaku-ji (Temple of the Silver Pavilion) is the more common name for Jisho-ji, a temple belonging to the Shokoku School of the Rinzai Zen sect of Buddhism. This popular tourist site was (along with 16 other sites in Kyoto) listed by UNESCO as a World Heritage site in 1994. Ginkaku-ji was not originally a temple. Ashikaga Yoshimasa (1436-1490), the 8th Ashikaga Shogun and grandson of Ashikaga Yoshimitsu (constructor of Kinkaku-ji, the temple of the golden pavilion) began construction in 1460 but was prevented from immediately completing his retirement villa due to the Onin Wars (1467-1477).
1: From Kyoto Station: Take bus 5 and get off at the Ginkaju-ji-mae stop.
2: From Okazaki: Take the Kaisoku (Express) from JR Okazaki Station to JR Mikawa Anjo (10 minutes) or JR Nagoya Station (28 minutes). Change to a west bound Kodama shinkansen. Then take bus 5 and get off at the Ginkaju-ji-mae stop.